Header image: A Lancaster bomber silhouetted over the target at Mailly-Le-Camp, with bombing in progress, on the night of 3rd/4th May 1944.
Seventy-five years ago, on the night of 3rd/4th May 1944, 346 Avro Lancasters and 16 de Havilland Mosquitoes of RAF Bomber Command's Nos 1 and 5 Groups mounted an attack on the German Wehrmacht barracks and battle-tank depot near the French village of Mailly-Le-Camp, 85 miles east of Paris. Mailly-Le-Camp was in a strategic location from which it would be possible for the German tanks to be quickly mobilised to engage the Allied invasion force after the planned D-Day invasion in Normandy. The Allied High Command decided to remove the threat of the tanks by strategic bombing.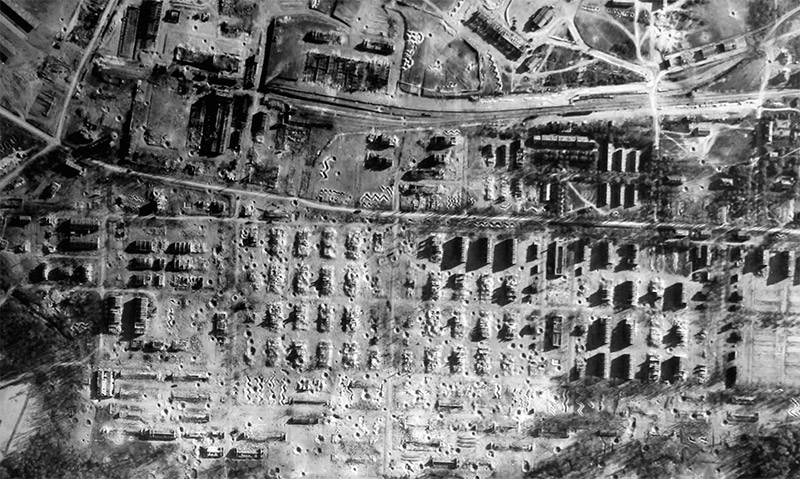 Although the target was accurately marked on schedule by the Pathfinder Mosquitoes, led by Wing Commander Leonard Cheshire, the order to bomb was prevented from getting through to the Main Force by radio communication problems. The delay resulted in several hundred fully laden Lancasters orbiting an assembly marker under a three-quarter moon in a cloudless sky, making easy pickings for the Luftwaffe night fighters which shot down a total of 42 Lancasters (some 11.6% of the attacking force) with the deaths of 258 RAF aircrew, devastating losses. However, the bombers dropped 1,500 tons of bombs on the barracks, causing considerable damage; 114 barrack buildings and 47 transport sheds were destroyed along with 102 vehicles, including 37 battle tanks. The German forces suffered heavy casualties with 218 men killed and 156 wounded, mostly Panzer Division NCOs. Sadly, despite the general accuracy of the bombing, over 100 French civilians were also killed in the raid.
Regular readers will know that the BBMF Lancaster PA474 is currently painted to represent Lancaster W5005 'AR-L' of 460 Squadron RAAF, with its kangaroo and bagpipes nose art. 460 Squadron was one of the units which took part in the Mailly-Le-Camp operation, but Lancaster W5005 was not on the raid. On 3rd/4th May 1944 it was undergoing repairs at RAF Binbrook, after the starboard undercarriage had collapsed on landing from a bombing mission to Karlsruhe on 25th April, with Australian Flight Sergeant Dan Cullen at the controls. By then W5005 had become 'AR-E2' and it had 54 symbols painted on the 'ops' log forward of the nose art. Once the repair was complete W5005 left 460 Squadron and was transferred to 550 Squadron at North Killingholme, flying its first 'op' with the unit on 9th/10th May 1944.

460 Squadron sent 18 Lancasters on the Mailly-Le-Camp raid, each carrying one 4,000lb 'cookie' blast bomb and 16 x 500lb general purpose bombs. The crews were briefed to bomb from a lower height than usual, around 5,000 feet. 460 Squadron lost six aircraft on the operation, making it the Squadron's worst-ever night. One of the six Lancasters lost was ND860, which had been borrowed by 101 Squadron; it took off from RAF Binbrook alongside the 460 Squadron aircraft, piloted by Flt Lt W E Hull. He and his six RAF crewmen were all killed in action when the Lancaster was shot down exiting the target area.
The other five 460 Squadron Lancasters lost that night were JB741 'AR-J' "Jig" (captained by Pilot Officer F W Baker RAF, with a crew on their first 'op'), LM531 'AR-R' "Robert" (Warrant Officer G K Gritty RAF), ME728 'AR-Z2' "Zebra Two" (Pilot Officer N D L Lloyd RAAF), ME 740 'AR-E' "Easy" (Flight Sergeant H J G Fry RAAF) and ND630 'AR-G' "George" (Pilot Officer J W Smart RAAF). All were shot down by German night fighters, two of them whilst awaiting bombing instructions at the assembly point and three after bombing the target. Only three men survived, all from Gritty's crew: his Bomb Aimer, Sergeant L H Williams RAF; Navigator, Sergeant J Orbin RAF; and Mid-upper Gunner Sergeant Bryan Morgan RAF. All three evaded capture with the help of the French Resistance. It is interesting to note that of the 35 crew members on these five 460 Squadron Lancasters, 23 were British, five were Canadian, and only seven were Australian, illustrating how cosmopolitan a unit 460 Squadron RAAF was at this stage of the war.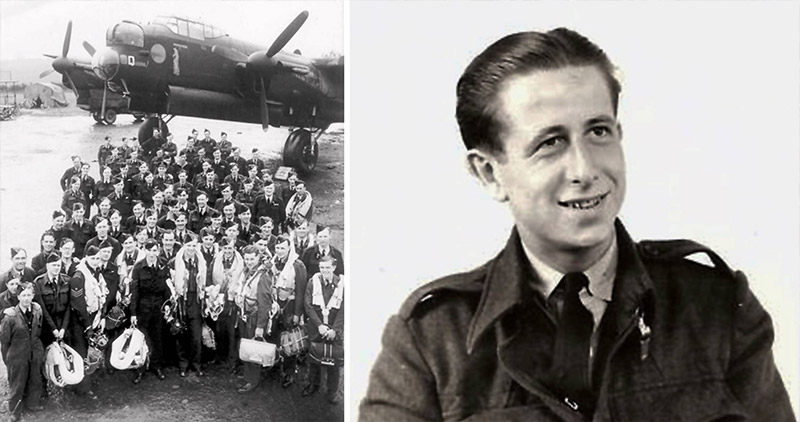 Rear Gunner, Sergeant Bryan Morgan, who survived being shot down on the raid, later recalled: "I could see aircraft going down all around me. Suddenly our fuel tanks were hit and I could see a mass of flames, my mid-upper gunner was in his turret in flames, there was no chance for him. I knew our intercom had failed … the aircraft was still flying but losing height. There was no point waiting for an order to bale out, so I opened the turret doors, got my parachute and clipped it on. I turned the turret manually and fell out backwards. I pulled the rip cord and remember looking back at the aircraft and seeing it disintegrate. I later discovered we had been shot by a Focke Wulf 190 and four of our crew died; only three of us got out. My pilot died in there along with my wireless operator, mid-upper gunner and flight engineer.
One of the 'experten' Luftwaffe night fighter pilots in action over Mailly-Le-Camp that night was Major Martin Drewes, the Gruppenkommandeur of III.Gruppe NJG 1. He shot down five Lancasters in 40 minutes with his Messerschmitt Bf 110, equipped with upward-firing 'Schrage Musik' cannons, taking his total to that point to 45 bombers destroyed. (Martin Drewes survived the war and died in Brazil in October 2013, aged 94.)

To add insult to injury for the Lancaster crews, RAF Bomber Command had announced that these short-range operations over France would only count as a third of an 'op' towards a full tour of 30 'ops'. One Bomber Command veteran who flew on 'ops' during this period told the editor, "We wondered amongst ourselves if we were killed on one of these 'ops' whether we would only be a third dead!" The disastrous losses of the Mailly-Le Camp raid at least resulted in the 'third of an op' policy being overturned.