Header image: BBMF Spitfire Mk XVI TE311 in its current colour scheme (Photo: Richard Malcolm)
BBMF's Spitfire Mk XVI TE311 was taken on charge by the Air Ministry on 8th June 1945, exactly one month after VE Day. So this June sees the aircraft's 75th birthday!
TE311 was built at the Castle Bromwich 'shadow' factory as a 'low back', 'clipped wing', Rolls-Royce Merlin 266 powered L.F.XVIe. It was delivered from Castle Bromwich to No 39 Maintenance Unit at Colerne on 16th June 1945 and placed in storage. It was allocated to the Empire Central Flying School Handling Squadron on 5th October that year. In all, with spells on the ground and long periods in storage in between bouts of flying, TE311 flew for a total of only about 12 months. When it was transferred to non-effective stock in December 1954 it had only some 30 hours 'on the clock'.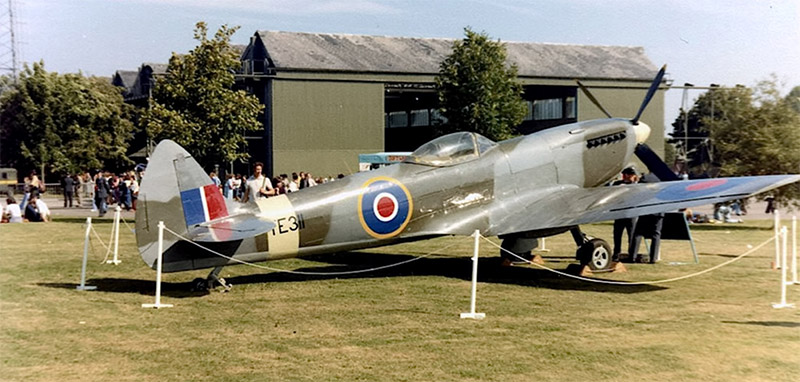 For the next several decades Spitfire TE311 was kept on the ground, including use as a static exhibit, spending over 12 years as a 'gate guardian' at Tangmere and Benson, and 27 years as a static display aircraft with the RAF Exhibition Flight. It was brought into the BBMF 'fold' in 2000 intended to be used only for spare parts, but in 2002 a 10-year re-build to flying condition was commenced, led by Chief Technician Paul Blackah MBE. The Mk XVI took to the air for the first time in 58 years in October 2012 and then joined the BBMF's fleet of airworthy Spitfires.
TE311 is currently painted to represent clipped-wing Spitfire Mk XVI TD240, which was the personal aircraft of the Polish Commanding Officer of No 131 (Polish) Wing, Group Captain Aleksander Gabszewicz VM KW DSO DFC, from April 1945 to mid-June 1945, with his code letters 'SZ-G' and his personal 'boxing dog' motif on the port engine cowling. At the time 131 (Polish) Wing was stationed at Varrelbusch (B.113) airfield in Germany. Gabszewicz flew six wartime operational sorties in TD240, including four dive bombing enemy positions.