A newly published book, titled 'A Ruddy Awful Waste' and written by 41 Squadron historian, Steve Brew, with Mike Bradbury, who is related to Eric Lock, is the first detailed biography of the RAF fighter ace who is currently commemorated by the colour scheme of BBMF Spitfire Mk IIa P7350.
A copy of the book, signed by the authors and the commanding officers of 41 and 611 Squadrons (the units Lock flew with), is a Club competition prize this month.
Win a copy of 'A Ruddy Awful Waste'
On top of the RAF Memorial Flight Club's usual ballot prize, we have a bonus competition for you to enter this month. Answer the following question and complete the entry form below before 28 August 2016 to be in with a chance of winning a copy of the new biography.
This competition is open to everybody, so please do feel free to share it with your friends and family. The first correct answer drawn will win the prize.
On 5th September 1940, Eric Lock shot down three enemy aircraft in one sortie in his Spitfire Mk 1 coded 'EB-G'. The eight 0.303 inch machine guns in this Mark of Spitfire had 300 rounds of ammunition per gun. For how long could Eric Lock have fired his guns before all the ammunition was expended?
A. 5½ minutes
B. 3½ minutes
C. 1½ minutes
D. 15½ seconds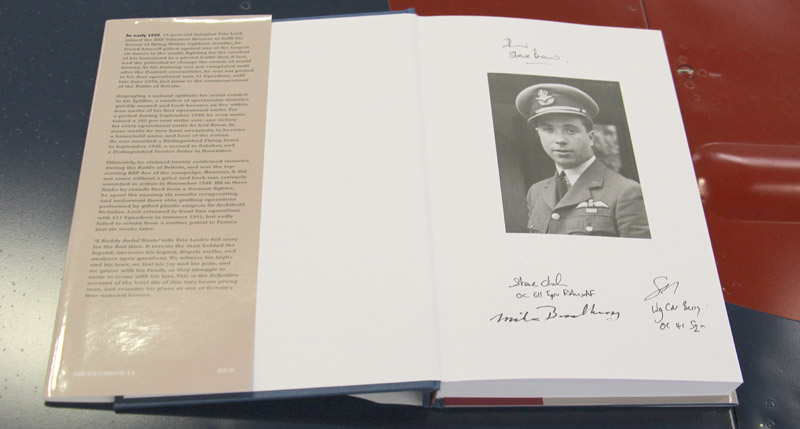 WWII fighter ace, Flight Lieutenant Eric Lock DSO DFC and Bar
P7350 has worn the 41 Squadron Battle of Britain camouflage scheme with the code letters 'EB-G' since 2011 in honour of Flight Lieutenant Eric Lock DSO DFC and Bar, who hailed from ordinary stock, but achieved extraordinary things as an RAF fighter pilot in 1940-41. He is now recognised as the highest scoring RAF fighter pilot of the Battle of Britain and, despite flying operationally against the enemy for a period of only 20 weeks, he is one of the top ten RAF fighter aces of the War. He was lost in August 1941 on a 'Rhubarb' fighter sweep operation over the continent; he was probably shot down by ground fire, but his aircraft and his body have never been found and his grave is most probably the English Channel. He was still only 22 years old when he was killed.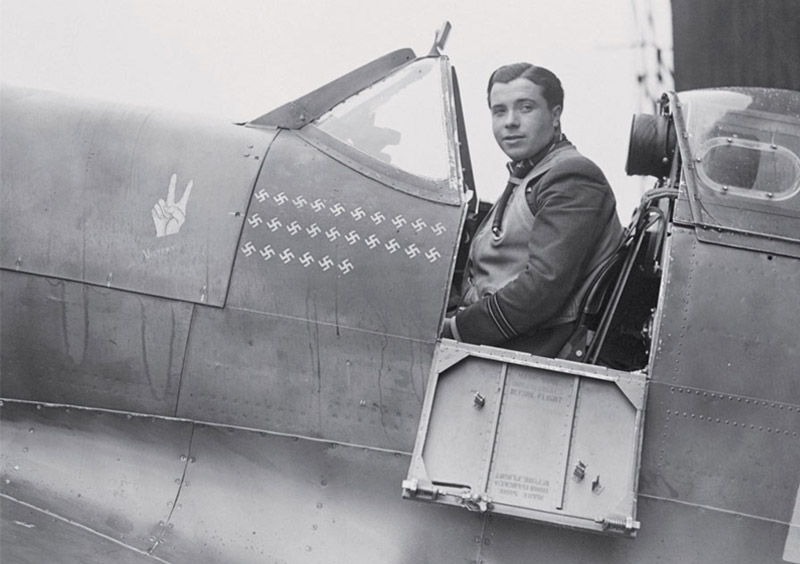 In just a few weeks during 1940 Eric Lock rose from anonymity to become a household name and wartime 'celebrity'. Today however, very few people have even heard of him. A detailed biography of Eric Lock is long overdue and author Steve Brew has carried out extensive research, with the assistance of the extended Lock family, to reveal the man behind the legend and to provide a definitive record of the short life of this brave young pilot who is one of Britain's true national heroes. The book provides some fascinating details and brilliant descriptions of the combats in which Lock was involved; it also sets his individual actions in the air within a wider framework of the wartime operations and the people and other pilots in his life.
The title of the book, 'A Ruddy Awful Waste', is taken from the entry made in the 611 Squadron Operational Record Book on the day that Eric Lock was lost: "It seems a ruddy awful waste to lose so great a pilot on so trivial an expedition…."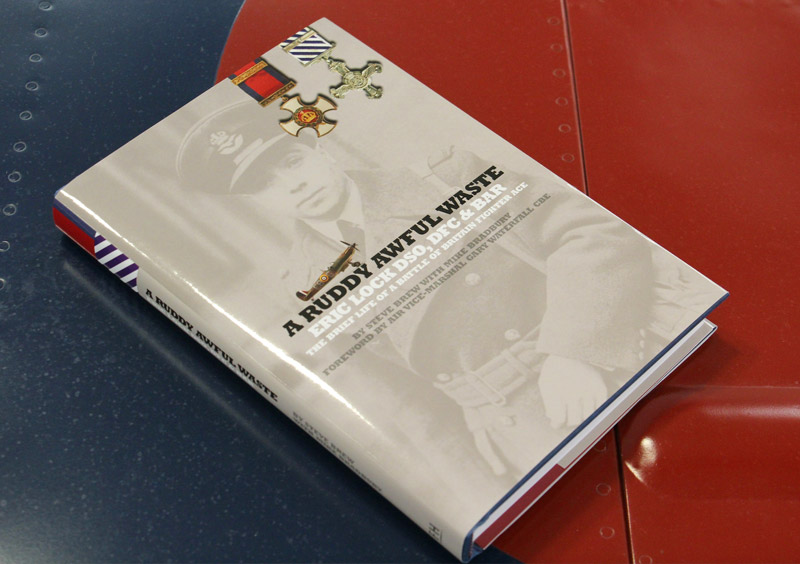 The new book, published by Fighting High, was launched at an event held close to Eric Lock's boyhood home in Shropshire on 16th July and is now available for purchase (cost £25) from most bookshops and via the Internet. This is a book that many readers of the RAF Memorial Flight Club's newsletters will want on their bookshelves.