Header image: The International Bomber Command Centre, Lincoln. (All photos: IBCC)
On 12th April the International Bomber Command Centre (IBCC) on Canwick Hill, Lincoln, was officially opened with a special ceremony. Club members will have seen the article in the latest Yearbook magazine giving details of the superb memorial and the state-of-the-art interactive displays in the Chadwick Centre, telling the story of RAF Bomber Command during World War Two. The centre has been open to the public in a so-called 'soft opening' since the end of January, but this was the official opening ceremony.
A crowd of some 3,000 people attended, most of them with family connections to Bomber Command or involvement in the centre. There were also 300 Bomber Command veterans present, the youngest 92 and the oldest 100; they had travelled from as far afield as Australia and Canada to be there.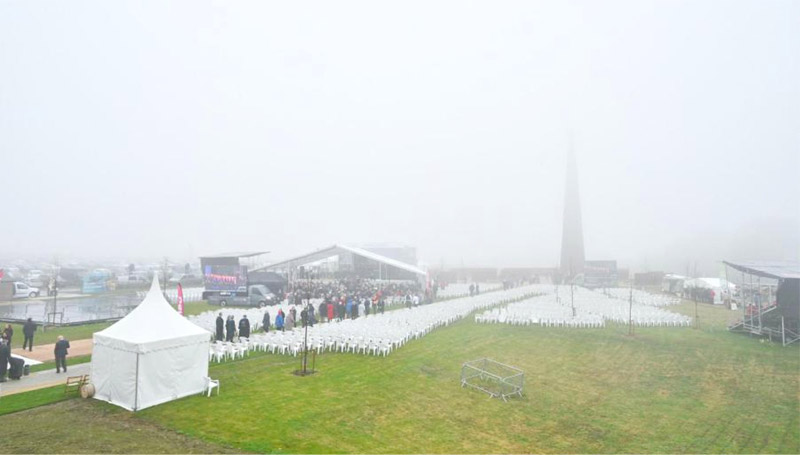 Sadly, the British weather, as so often during the war, disrupted the plans. It was truly horrible that day with low cloud and mist and very cold temperatures. It was so cold that the veterans were given blankets, both woollen and silver foil survival blankets, to help keep them warm. The memorial spire disappeared into the low cloud and the visibility was so poor that Lincoln Cathedral could not be seen on the hill opposite.
The BBMF Lancaster had been due to make three flypast over the ceremony, but in those weather conditions there was no chance of flying, much to the disappointment of the BBMF personnel as well as to those present on the ground.

Veterans, including the last surviving British 'Dambuster', George 'Johnny' Johnson, cut the ribbon to officially open the centre. For many this was an emotional day and a time for reflection, although there was also the chance to renew old acquaintances and make new friends.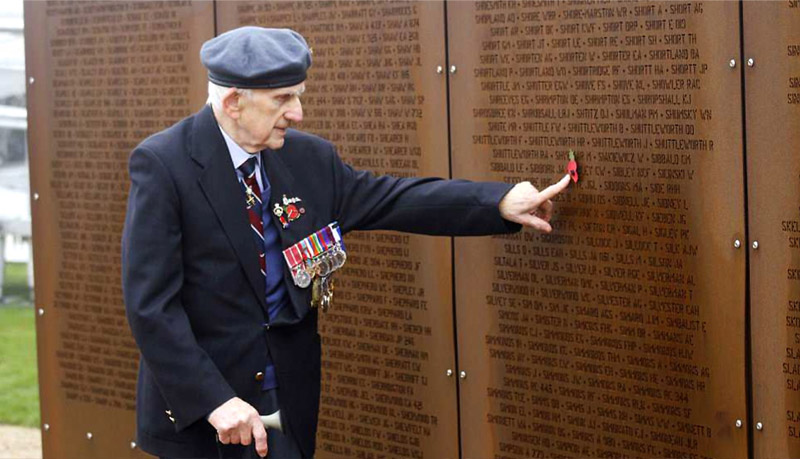 One of the veterans attending was former rear gunner Geoffrey Towers, 93, from Pontefract, Yorkshire. He survived 40 wartime operations and shot down a German Messerschmitt Me262 jet fighter over Bochum in 1944. He said of his time flying with Bomber Command, "I think everybody was scared, but you dare not show it. Our crew was a band of brothers. We flew together, went out on the town together and our lives depended on each other".
A visit to the IBCC is a must for all with an interest in this aspect of the RAF's history. The IBCC is about 45 minutes' drive from the BBMF at RAF Coningsby, so both can be visited on the same day and, of course, Official Club members get a free hangar tour via the BBMF Visitor Centre on production of a valid membership card.