Header image: This is not actually Spitfire P7350, but 234 Sqn Spitfire Mk 1 'AZ-V', which made a wheels-up landing at RAF St Eval on 9th October 1940. P7350 would have suffered similar damage after being shot down and force-landed, wheels-up, on 25th October 1940.
In last month's newsletter we reminded readers that BBMF Spitfire Mk IIa P7350 was shot down 80 years ago on 25th October 1940, during the closing stages of the Battle of Britain. P7350's pilot that day, Pole Ludwik Martel, had to force-land the Spitfire, wheels-up, in a farmer's field and it suffered Category B damage. It was then moved by road to No.1 Civilian Repair Unit at Cowley on 31st October, where it was repaired. P7350 was ready to fly again on 7th December 1940. So, 80 years ago this month, P7350 was under repair at No.1 Civilian Repair Unit at Cowley, Oxford.

Following the outbreak of World War Two, No.1 Civilian Repair Unit (CRU) was established at the Cowley works of Morris Motors on 11th September 1939, staffed by civilians under the management of the Air Ministry. Many of them were car workers who adapted their engineering skills to repairing damaged military aircraft to get them back in the air. No.1 CRU was supplemented by No.1 Metal and Produce Recovery Depot (MPRD), established adjacent to the existing Cowley works, to reclaim scrap metal. A support unit was also established at Cowley, in the form of No.50 Maintenance Unit (MU). No.50 MU transported damaged aircraft and parts to the CRU, and other firms participating in the Civilian Repair Organisation, in their 'Queen Mary' articulated vehicles, and also collected non-repairable parts and scrap materials for reclamation at the MPRD.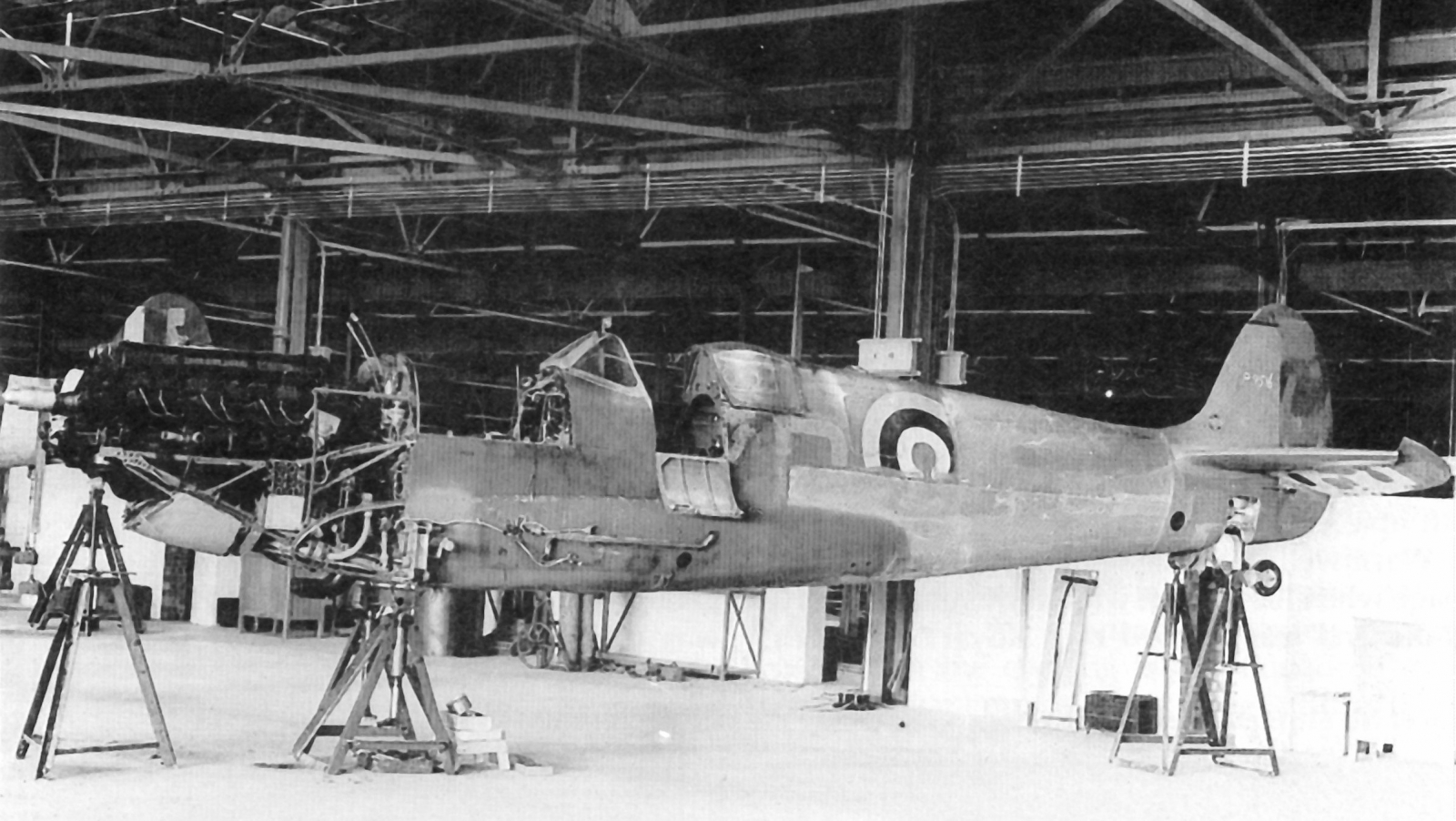 The No.1 CRU at Cowley repaired many Hurricane and Spitfire fighters, as well as Magister and Master training aircraft. Many of the small parts needed for repairs, such as ribs, angles and reinforcements, were made by the workers at the unit by hand. Meanwhile, the engines were sent away for overhaul. When the aircraft had been repaired they were flown out from Cowley's own airfield. The CRU occupied S Block of the car factory and the part of the block nearest the flying field was known as the 'Flight Shed', being clear of supporting pillars. Alongside the flight shed was the paint shop, big enough to take a complete aircraft. Next door was R Block where Tiger Moths were built.
Initially, No.1 CRU had 800 workers, repairing an average of 12 aircraft a week, but as work increased, staff numbers grew to 1,200. Official working hours were from 8am to 10pm, there was no recognised night shift, but during the Battle of Britain the workshop was never once deserted, even throughout the night. There was a perpetual race against time to change a pair of wings, mend punctured oil pipes or do other vital repairs to get another fighter aircraft back in the air as soon as possible. No.1 CRU was the country's largest and it repaired and dispatched almost 1,000 aircraft during 1940. One of those was Spitfire P7350. The workers who repaired 'P7' 80 years ago would be amazed to know she is still flying today with the BBMF.
The Cowley Motor Works is still in existence, now as the BMW Mini Factory.