A new exhibition, 'A Century of Valour', has opened at The Collection museum in Lincoln, courtesy of Aviation Heritage Lincolnshire in partnership with the RAF Museum, the Imperial War Museum, the Lord Ashcroft Collection and Lincolnshire County Council's Heritage Service, with funding from the National Lottery.
The centrepiece of the exhibition is the Victoria Cross awarded to one of the nation's greatest military heroes, Wing Commander Guy Gibson VC DSO and Bar DFC and Bar, of 'Dambusters' fame, along with other rare artefacts associated with him. This is the first time that Gibson's VC medal has returned to Lincolnshire since his death in 1944; it has been displayed publicly only three times since then. The exhibition offers a unique opportunity to see the medal and also to explore Lincolnshire's aviation gallantry over the past 100 years.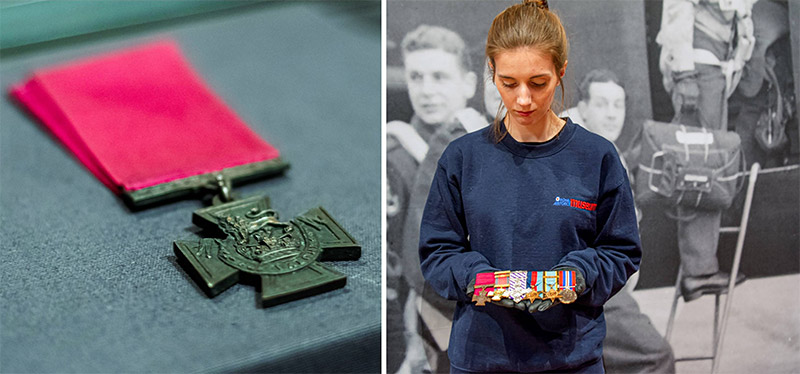 The exhibition tells the story of bravery in the air and on the ground through three major periods in Lincolnshire's military aviation history: World War One, World War Two and The Cold War. The heroism of aircrew and ground personnel who risked their lives to support their comrades, Bomb Disposal Officers defusing devices on their own, the impact of animals such as explosives detection dogs and homing pigeons and modern day stories of bravery in Afghanistan are all included. One exhibit features a Dickin medal awarded to a pigeon which flew hundreds of miles carrying a message notifying officials of an aircraft crash. Previously unseen memorabilia is also on show from the famous fighter ace Douglas Bader, including his log book and artefacts from his time in captivity in Colditz Castle. Other stories include the American nurses, known as the "Winged Angels", who supported injured troops transported in C-47 Dakota aircraft to bases in the county for onward transferral to hospitals. There are also rare accounts from the Cold War of Vulcan bomber crews ready to unleash terrible retaliation to the Soviet nuclear threat. A decommissioned tactical nuclear weapon and a Vulcan pilot's ejection seat are also on display.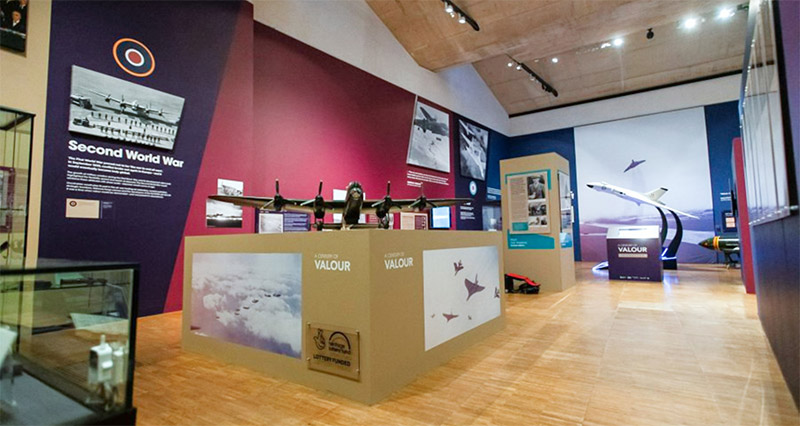 In 1944, whilst Guy Gibson was based at RAF Coningsby, in a non-operational ground post, he made persistent requests to fly on operations. Finally, although he had already flown more than 170 'ops', he was granted permission to fly one final 'op' on 19th September 1944, as Master Bomber in a DH Mosquito. He failed to return from the operation and it was subsequently discovered that he had been killed. Despite all that he had achieved he was still just 26 years old. His personal effects were collected together at RAF Coningsby and dispatched to his family: his father, his sister Joan and his brother Alex. Joan hung his uniform in a wardrobe for several years before removing his well-worn pilot's brevet – his 'wings' – from the jacket, to mount them in a picture frame together with a photo of her beloved brother.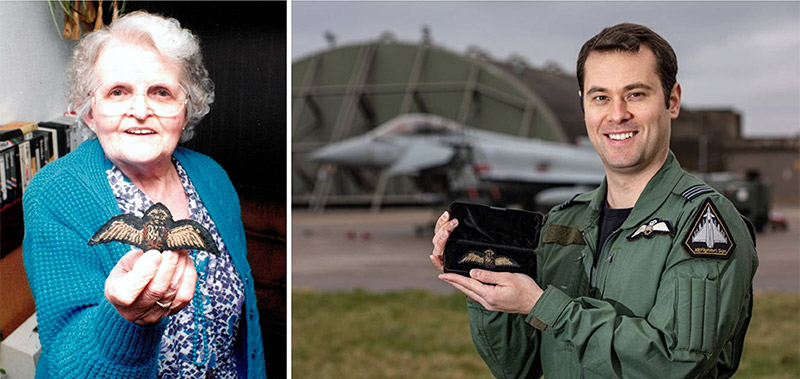 To presage the new exhibition Guy Gibson's 'wings' were flown over Lincoln in a Eurofighter Typhoon from RAF Coningsby on Friday 24th January. Whilst Gibson's 'wings' were at Coningsby the opportunity was taken to photograph them in the BBMF hangar with the Flight's Avro Lancaster, the aircraft type which is synonymous with him and the 'Dams Raid' and which he first flew from RAF Coningsby in July 1942. After the Typhoon had landed, the 'wings' were returned to The Collection museum by RAF courier to be put on display in the Gibson cabinet at the exhibition.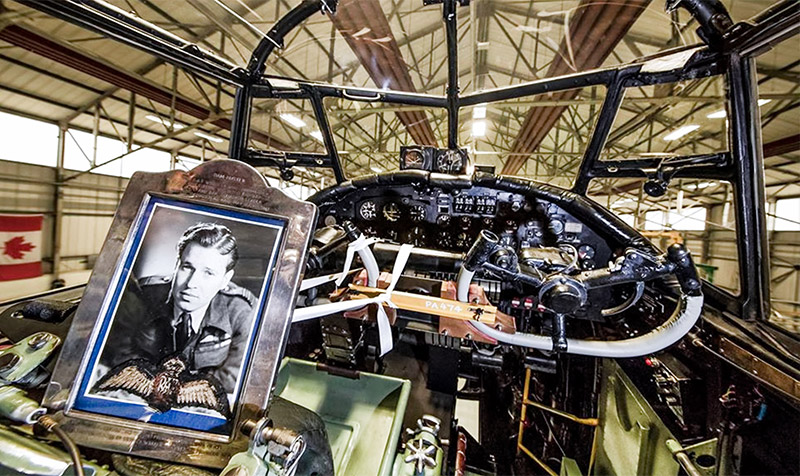 There is a small charge to view the exhibition in Lincoln which will run to 15th March (details can be found on The Collection museum's website).