Header image: Lancaster reflection. This lovely picture shows the soaking that the frequent heavy showers of rain produced, which sadly led to the cancellation of the planned flying programme. (Photo: Lisa Harding)
The annual Members' Day event was held at the BBMF at RAF Coningsby on Saturday 28th September. Members' Day is an exclusive 'closed' event for 2,500 ticket-holding members of the Lincolnshire's Lancaster Association and of the RAF Memorial Flight Official Club, and is traditionally held at the end of each display season as a thank you from the BBMF to its supporters. The ticket allocation for Members' Day is limited to a total of 2,500 because of the maximum capacity of the BBMF site at RAF Coningsby, which is also an active operational airfield.

All the Flight's serviceable aircraft were moved out of the hangar onto the hardstanding outside and the hangar was occupied by exhibits and stalls selling aviation-related items and artwork. The Club Membership Manager, Amy Alford, was also there, selling back copies of the Club magazines and to meet and chat to members.

Unfortunately, the weather conspired against the planned flying programme. Earlier in the day, before the rain came, the wind was well out of limits for the BBMF aircraft. Then in the afternoon, after the wind had died down, torrential showers of rain became the problem. The aircrew thought that a weather 'window' would appear later in the afternoon and got as far as starting up the Lancaster before it became obvious that flying would have to be cancelled. The BBMF aircrew were as disappointed as everyone else that they could not fly, but it did mean that they had more chance to meet and chat to members. As one member, Amanda Wheatley, posted on Facebook: "Despite the weather, it was an otherwise good day. Yes, there was disappointment on BOTH sides for no flying. I know the boys were gutted that they couldn't fly. Roll on 2020."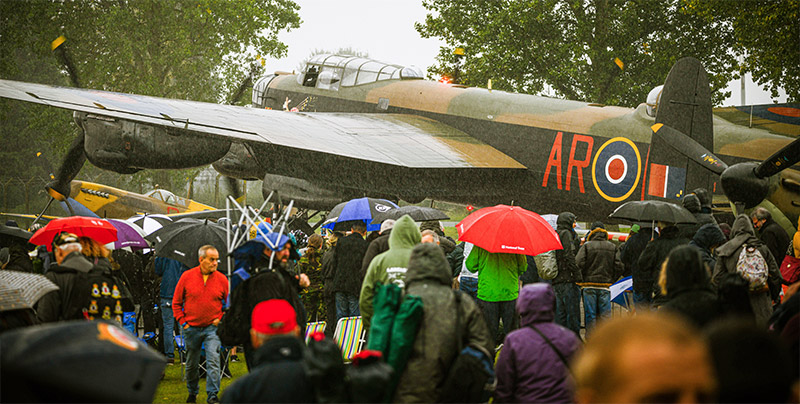 The BBMF thanked all the members who braved the weather and turned out to show their support, saying, "It was great to be able to meet our members and we thank you for all your support." Fingers crossed for better weather next year.